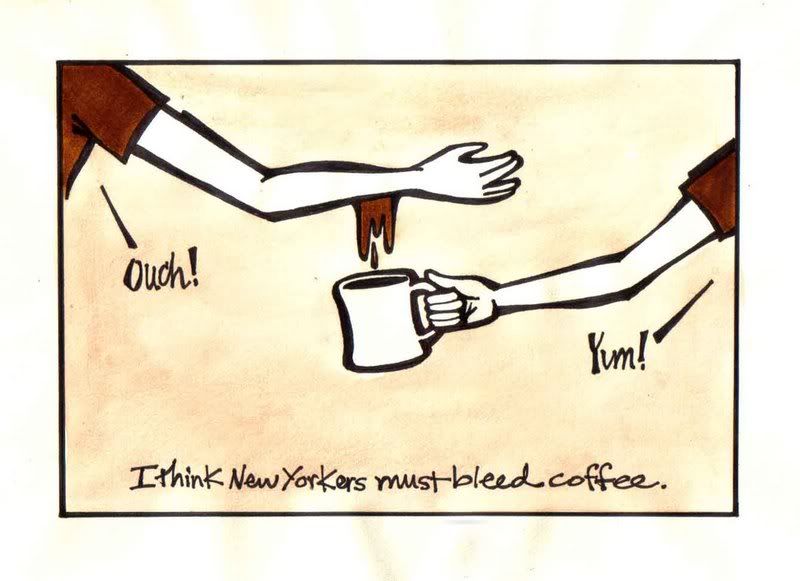 Let's see....this first image here is one I drew while sitting at a bar the other night (watching rock karaoke) and it made me just laugh out loud to myself! Because bleeding people are funny.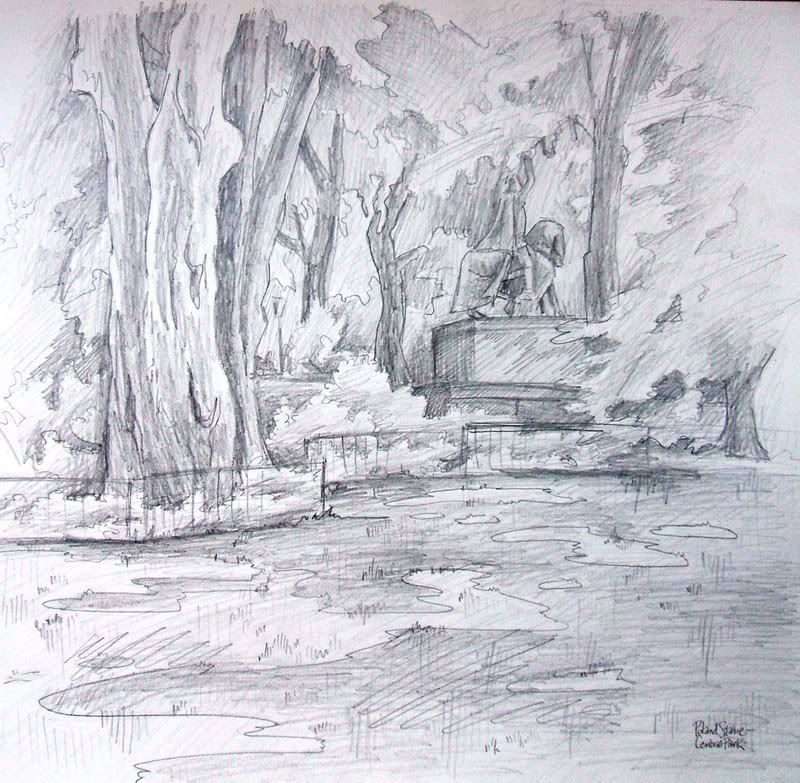 And this is a sketch is from Central Park the other day over by the turtle pond.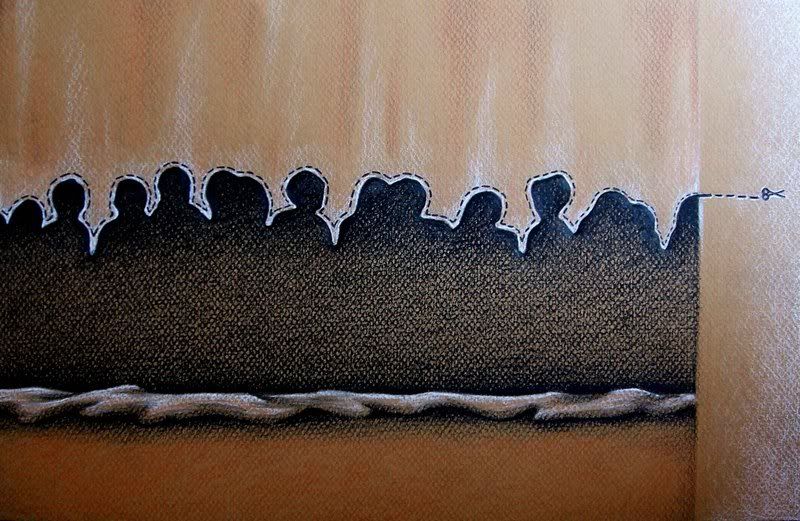 This drawing is of a cut-out-crowd of people. I just saw this image in my head and wanted to make it, so I'm not sure exactly what it's about. Something about loneliness I guess, about all the people here in the City who I don't know, all the people that don't belong to me, and I don't belong to them, etc. I'm sure it'll make more sense to me later...
So, over the past few years I've trained myself to listen closely to all these little thoughts running through my head. Which is fine and all. But it's made me overly attuned to all the little vibrations and fluxuations I experience throughout the day, which gets annoying sometimes. (Yeah, yeah, like that funny King Missle "Sensitive Artist" song...) So this next painting uses an abstracted seismograph as the metaphor for my over-sensitivity. Hmm, well, I like the colors at least...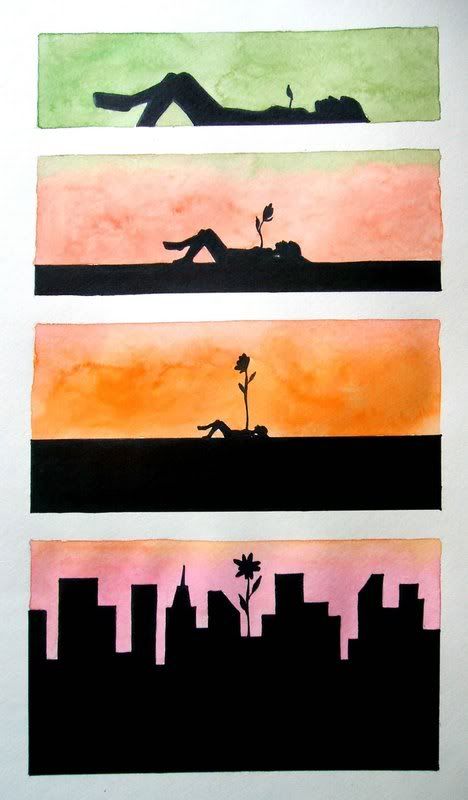 This drawing is about how I've been this more-positive, more-outgoing, (more-gramatically-incorrect) more-happy-go-lucky, more-bubbly version of myself here in New York. Which I can't explain, because one would think New York would have the opposite effect. Anyway, I think it's challenging to draw about joy without it becoming overly nostalgic or trite. So I hope you like it as much as I do!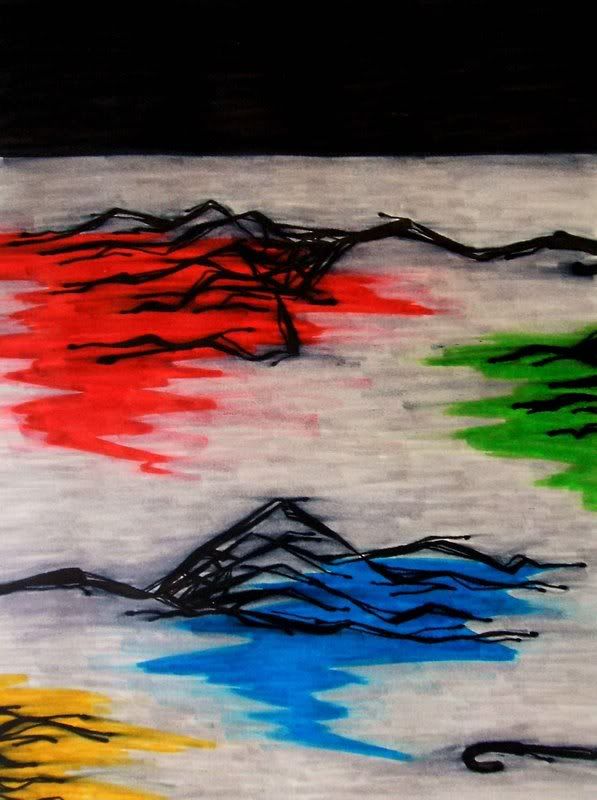 I made this next drawing with my new set of markers which I just love, and it's of an umbrella battlefield. Last week I was walking home from work in the rain and was just giggling under my strained umbrella at all the discarded umbrellas littering the sidewalk like crumpled spiders. (I passed three just on my way home.) I found it disconcerting how the fabrics were so colorful and cheery while they revealed such twisted and mechanical underworkings. This drawing amuses me way more than it should.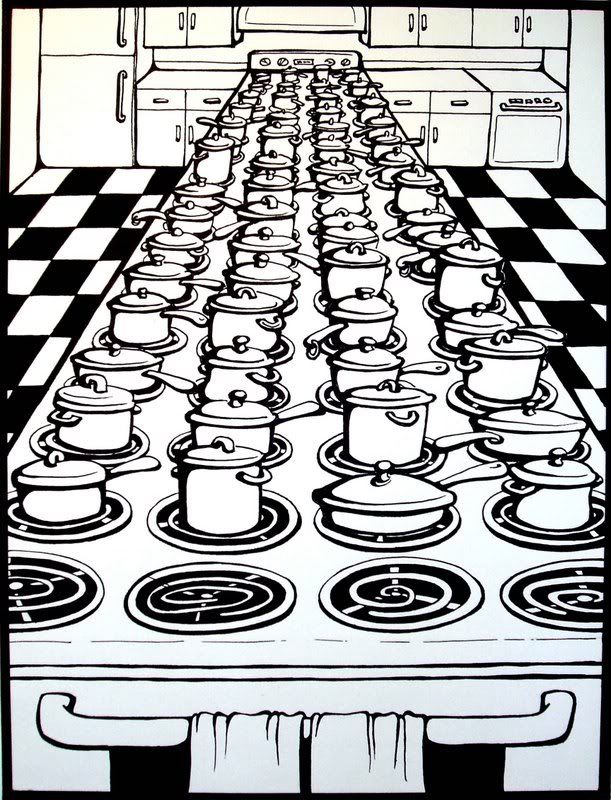 This next drawing is about how I always have so many thoughts, plans, daydreams, ideas, and so forth cooking in my head. They're all at various stages of cooking, and sometimes a bunch of them are ready at the same time. My oven has a lot of backburners.